Our team of Ennis Lake fly fishing guides are ready to put you on fish! Ennis Lake offers incredible Callibaetis and Trico hatches in summer months. Large browns and rainbows ("gulpers") cruise the lake subsurface, rising to these mayflies and creating a "gulping" sound. Long accurate casts are important but not always necessary to be successful with these trout.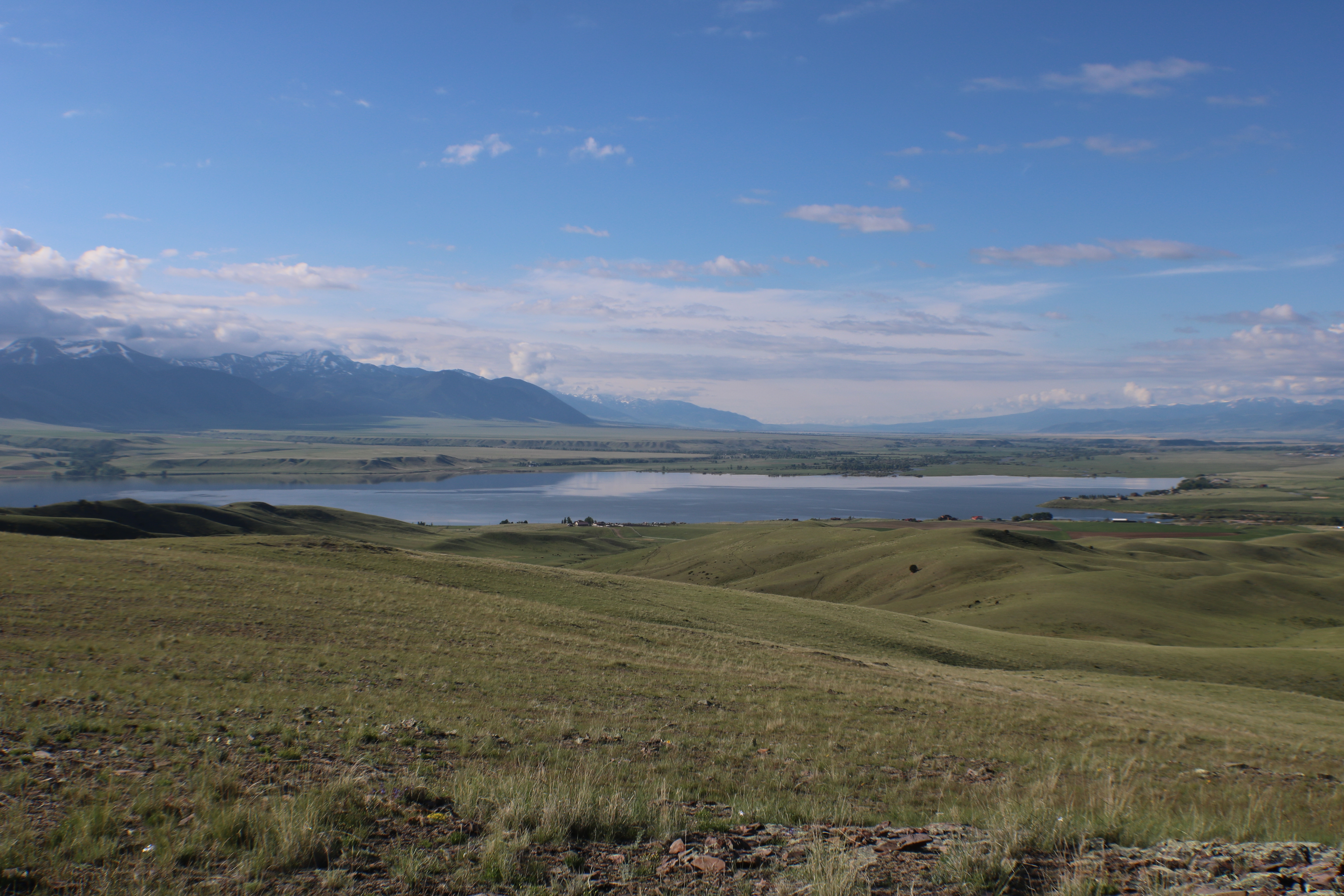 View more photos
Fishing gets underway on Ennis Lake as soon as the ice melts, and depending on Mother Nature this could be as early as mid-February or as late as mid-March. Stripping a bead/cone head woolly bugger or crayfish pattern VERY slowly once the open water starts appearing on Ennis Lake can be very rewarding. Also, keep your eye out for rising fish just after ice off; midges will bring these rainbows and browns to the surface. Mostly rainbow and brown trout averaging 14″-16″ and larger trout in the 18″-24″ are not uncommon. Ennis Lake will continue to fish well until the muddy water from runoff flows into the reservoir. On a ten year average, this will happen mid to late May. Ennis Lake will start clearing up as runoff fades out and the sediment starts to settle in the lake, typically around mid-June. Once the water clarity is back to normal on Ennis Lake, our focus shifts to the Madison River as we start seeing our famous salmon fly hatch get underway. However, if you are frustrated with the crowds during the salmon fly hatch consider spending your morning or afternoon on Ennis Lake. I'm sure you will have it to yourself. Why morning and afternoons? This is because the wind often can blow you off of the lake mid day. If the wind picks up our guides will pull off of the lake and make a short 10-15 minute drive to the Madison River and launch our boat for the remainder of the day. This is a great opportunity to learn both still water and moving water fishing techniques all in one day.
Ennis Lake is very shallow on average, so shallow that you can actually get out of your boat and wade fish in certain areas of the middle of the lake. This shallow water allows the water to warm up during the summer months of late July, August, and into September. This warmer water allows weeds to grow in great numbers and heights. This is great habitat for mayflies like Callibaetis, Beatis, and Tricos. The warmer months of August into September can present a great opportunity to spend a couple of hours chasing GULPERS. Gulpers are what we call the trout that cruise subsurface picking off adult mayflies on the surface making a GULP sound.
Fishing Ennis Lake in the fall, mid-September through October, can be a great opportunity to catch a larger than average brown trout. Once the water temperatures start to cool down, this will trigger the brown trout to start making their annual fall run up into the Madison River. Spending a day or a few hours of the day stripping streamers where the Madison River flows into the lake can be productive. During the fall months, often our guides will launch their boat at Valley Garden boat ramp (downriver of the town of Ennis) and float to Ennis Lake to intercept these browns as they start their move into the river system. The section of river from Ennis (Highway 287 bridge) to Ennis Lake is one of two designated "walk and wade only" sections of the Madison River in the Madison Valley. This means that we can launch our boats at a public launch site and float but by law, we cannot fish from the boat. We must get out of our boats to fish. What may seem like a restriction actually allows us to access spots that would otherwise be passed by. Once we hit the lake we can start to fish from the boat again; casting streamers and dry flies are typically the best techniques.
Don't overlook the great lake fishing we have in southwest Montana!
River Discharge
Water Temperature