In this newsletter:
Madison River petition, our final trade show for the season, 2019 fishing license renewal, current snowpack, and what to expect for spring fishing.
Final Stop: Plano, Texas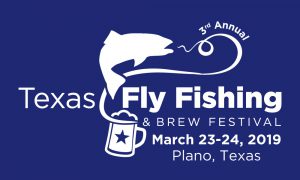 March, 23 & 24 at the Plano Event Center
Times:
Saturday: 9am-5pm
Sunday: 9am-5pm
Address:2000 E. Spring Creek Parkway
Plano, TX 75074
Plano Presentation: When & Where to Fish The Madison River
The
Madison River
is fish-able year round no matter what the news or social media says about river closures, runoff conditions, and wildfires. Climate change is real and we adapt to these new conditions by changing when and where we fish. Because of river closures and environmental concerns, more and more anglers worry about limitations to their fishing vacation in SW Montana. I want to reassure you and help you make the most of your fishing vacation to the Madison River by letting you know when and where to fish it.
The
Madison River
is a very different river from
Yellowstone National Park
to the headwaters of the
Missouri River
. I think of it as 6 different rivers in one, with three lakes thrown in. I will be discussing the best times to fish each section based on runoff, winter conditions, river closures, some major hatches, and crowds. I will also touch on the types of structure to fish as some anglers struggle to read much of the Madison River. I may mention a section of river that fishes best based on a major hatch, but I will not be going into details of hatches.
Presentation Times & Rooms:
Saturday, March 23rd – Spring Glade Room from 2-2:50pm
Sunday, March 24th – Spring Glade Room from 2-2:50pm
Pleasanton, CA Show
We always enjoy a break from our winter to visit sunny and warm Pleasanton, California! The show was a great success over the three days of talking fishing with area anglers. I gave my powerpoint talk each day on When and Where to Fish the Madison River. Friday and Saturday I had almost a full house at my presentations, while Sunday only had a few in attendance. Since I drove from Montana to the show I planned on getting an early start to my drive back home due to a severe winter storm that was forecast to arrive on Sunday. I departed the show immediately after the show ended in hopes of getting over Donner Pass before the storm was to hit. I did make it over the pass with no problems and I am happy that I did as the snow really hit Donner Pass on Sunday. I made the long drive from Winnemucca, Nevada on Monday and arrived home in Butte, MT around 5pm. I was fortunate as the Montana Department of Transportation closed Interstate 15 at Monida Pass (Idaho, Montana border) only hours after I had passed through there. When I arrived in Butte I relieved my wife of her hours of snow blowing. We received at least 18″ of snow and it continued to snow for the next couple of days. I am not sure what the final snow accumulation was but I would have to say around 24″ in a three-day period at our house in Butte, MT.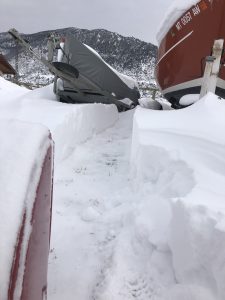 Snowpack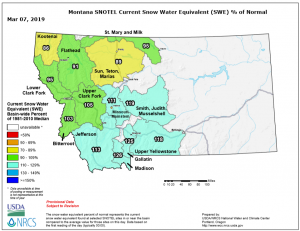 This past storm has jumped our snowpack up greatly, setting up our waters for a great upcoming season.
2019 Montana Fishing License
It is time to renew your Montana fishing license! Our license period is from March 1st through February 28th annually, unless it's a leap year then it's valid through February 29th. The prices have stayed the same for 2019.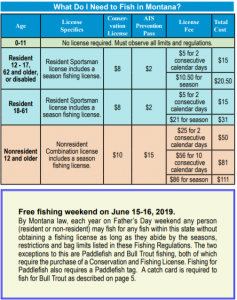 On all our trips – We recommend every angler to purchase a Montana fishing license before your arrival. Purchasing your fishing license in advance allows us to get you on the water early if needed; this can make the difference between a great day and a fair day. Here is the link to buy Montana fishing licenses online https://app.mt.gov/als/index/index.html. If you forget to pre-purchase online before your trip, no problem we can wait until a licensing agent opens their doors to sell you one the day of your trip.
Fishing Report
Not much to report on the fishing. Since I have been back from The Fly Fishing Show in California the temperatures have been frigid, to say the least. Single digits and teens for daytime highs not including the windchill. Lows as extreme as -25 degrees in Ennis on Sunday, March 3rd.
One of the things I mention in my talk When & Where to Fish the Madison River is where the best fishing or open water is to fish on the Madison River during the winter months. One location that typically is unfishable during winter is around Ennis, MT down to Ennis Lake. This past arctic cold front has "gorged" the Madison River, from Ennis Lake up the river, to almost 8 Mile Ford fishing access site! As you can see by the pictures below the river is completely frozen over, so much so that the some of the river water has diverted itself towards O'Dell's Spring Creek and that water breached highway 287 outside of Ennis, Montana.
If you are looking for open water to fish in the next few weeks we would recommend fishing near $3 dollar bridge, Raynolds Bridge, between Hebgen Lake and Earthquake Lake, and below Ennis Lake. A majority of the boat ramps in the Madison Valley are buried in snow, so access with a vehicle to launch a boat will be limited until things start warming up. If you do find an open ramp that you can get a boat in, you want to make sure you can access your take-out location first. Don't forget our tailwaters like the Missouri and Bighorn Rivers. These fisheries are great options this time of year with minimal crowds and there is some fantastic dry fly fishing to be had.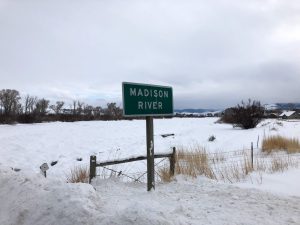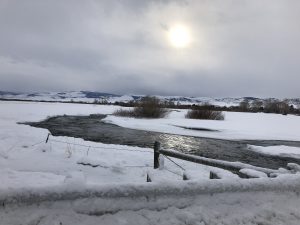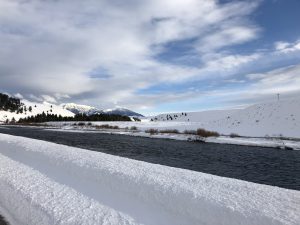 Photo #1 is the Madison River at Ennis, Photo #2 is where the river breached highway 287 near O'Dell Spring Creek, and photo #3 is at Pine Butte near $3 Bridge.
Spring Fishing Forecast
With much of February and early March held under old man winters thumb, we are all anticipating the arrival of spring in Montana. April and May are two fantastic months to visit Montana for fishing. Our fish have had little to no pressure all winter long, they are hungry and our tourist season has not yet begun, thus experiencing fewer crowds! Some of the best hatches of the year can be expected during April and May- Blue Winged Olives (BWO, or Baetis), March Browns, Skwalas and the famous Mothers Day Caddis Hatch. The Mothers Day Caddis Hatch can be difficult to time perfectly as an angler, especially an out of state angler. If you want to fish this prolific hatch we would recommend spending several days out here from April 26th through May 6th and we are sure you will hit it just right. Be willing to fish later in the day as this hatch will really get going once the water temperatures reach that 50-52 degrees, usually around 2pm-ish and will last into the evening. If you're willing to be on our guides schedule, we enjoy launching midday and fishing into the evening when conditions call for it during this hatch.
We still have openings for the spring months of April and May. Keeping in mind that our fishable river options dwindle in southwest Montana around the second week in May as runoff will begin (on a ten-year average). The Madison and Missouri Rivers will be your best options during the runoff period. On a ten year average, the runoff will peak during the first week in June and a majority of our waters will be in good shape again around mid-June.
Yellowstone National Park will open to fishing on the Saturday of Memorial Day weekend, which falls on May 25th this year.  No Montana or Wyoming state fishing license is required in Yellowstone National Park. A YNP fishing license is required – Anglers 16 years and older can purchase a three-day ($18), seven-day ($25), or season ($40) permit at all ranger stations, visitor centers, and Yellowstone Park general stores. Permits are also available at many businesses in the greater Yellowstone area. Anglers 15 years of age and younger may fish without a license when supervised by an adult or may obtain a free permit signed by a responsible adult to fish without direct adult supervision.
Madison River Petition
Fellow anglers, boaters, and river users, please take the time to read and sign this petition if you do not want to see the Madison River privatized. Take a stand to make sure your public access stays public for everyone and for future generations.
Please click HERE to read and sign.
I had a chance to sit in on one of many of the Madison Negotiated Rulemaking Committee meetings. Open to the public, anyone can sit in quietly and listen to the process on how this 10 person committee, with the help of a mediator, form a management plan that will more than likely be presented to the commissioners again this April. These meetings are followed up by public comment. You can also submit your comments via the FWP website HERE. We encourage you to submit your concerns that the committee members will read and take into consideration. One of the greatest concerns is eliminating the use of boats in the wade only sections from Quake Lake to Lyons Bridge, and from Ennis to Ennis Lake. Many of you have fished those areas with me or one of our guides, and understand how important it is to make sure these sections stay open to boat access. Here are the reasons why we feel boats need to be able to access those stretches of water.
Because the wade only areas are surrounded by private land, you cannot walk to several locations within these areas without trespassing. Thus we use a boat to taxi to and from each fishing hole. If the commissioners close off the wade only sections to boats then they are eliminating public and commercial (guides) access and the public's and guides clients right to enjoy that part of the river.
Boats allow us to fish away from the crowded public access points like Raynolds Bride, $3 Bridge and Valley Garden. This decreases the pressure in those areas and spreads the fishing out along these stretches of the river.
If these wade only sections are closed to boats, this will put more angler pressure in other float sections of the Madison River, like Lyons Bridge to Palisades.
Without the use of boats, our senior anglers physically cannot wade downriver to get away from the crowds near the public access locations.
If these sections of the river are closed to boats, the stream access law is violated. This would privatize the world renown Madison River that so many enthusiasts enjoy. And could lead to future privatization throughout our state.
Don't let one of the best fisheries in the lower 48 become privatized! Please click HERE and sign. And you can also submit your comments via the FWP website HERE.
Thank you for staying connected with us on current conditions, reports, and news!