During this unprecedented time in our world, we would like to take this free time we have to update you on our status here in Montana. As most of you already know, Montana has a relatively small population for the size of our state, 1 million 52 thousand residents in the fourth largest state. However, these numbers do not make us immune to the Coronavirus, but we can all do our part and follow the CDC guidelines to help stop the spread.
On March 26th Montana Governor Steve Bullock issued a statewide stay at home directive that goes into effect at 12:01 am on Saturday, March 28th through Friday, April 10th. Under the directive, people may leave their homes for essential activities, including health and safety reasons, for necessary supplies and services, to take care of others, and for outdoor activity.
"To engage in outdoor activity, provided the individuals comply with social distancing, as defined below, such as, by way of example and without limitation, walking, hiking, running, or biking. Individuals may go to public parks and open outdoor recreation areas, including public lands in Montana provided they remain open to recreation. Montanans are discouraged from outdoor recreation activities that pose enhanced risks of injury or could otherwise stress the ability of local first responders to address the COVID-19 emergency (e.g., backcountry skiing in a manner inconsistent with avalanche recommendations or in closed terrain)."
On March 29th social distancing guidelines have been extended through April 30th. Keeping a minimum 6′ distance between you and another person. Avoid crowds of 10 or more people.
On March 30th, Governor Bullock issued a directive for travelers entering Montana to self quarantine for 14 days. Ordered through April 10th.
"The Directive applies both to Montana residents and non-residents entering the state for non-work-related purposes. It requires a self-quarantine for 14 days, or the duration of a non-work trip to Montana—whichever is shorter. The Directive also instructs the Montana Department of Commerce to advise vacation listing and rental sites that they must notify potential out-of-state renters about the quarantine requirement. Health care workers are excluded from the Directive.

Further, the Directive authorizes the Montana National Guard to conduct temperature checks at Montana airports and rail stations and screen for potential exposure history for travelers arriving in Montana from another state or country."
Guiding anglers is not considered essential, so we will not be taking anglers out through April 10th and most likely through April 30th. We do encourage anglers to get outside and enjoy being on the water so long as we are staying at least six feet away from others while fishing. We believe we should all take it to the next step and fish solo or only with those in your immediate household through April 30th.
In This Newsletter:
Staying Safe on Fishing Trips, Fishing report, Travel Insurance & Snowpack.
Staying Safe on Fishing Trips
Safety is our number one priority for you and us. With that said, all April trips have been canceled. For the month of May, we will keep you informed on any restrictions that will effect your trip(s) with us.  We are cautiously optimistic that the curve will straighten by June, and hopefully we can get back to showing anglers a great time on the water. Given the current circumstances, we want to reassure you that we will follow the necessary guidelines to keep you and our guides safe during your fishing trip while in Montana. Here are a few steps that we are adopting to ensure your safety with us.
All our guides will carry and use hand sanitizer and disinfectant wipes often. We ask that you bring sanitizer and disinfectant wipes as well.
Regularly disinfect common areas such as fishing rods, car door handles, and areas of common use in our boats.
To limit extended times in our vehicles near each other in a confined area, we may ask clients to follow their guide to the boat ramp/fishing access sites.
If anglers or our guides have any symptoms of fever, cough, sore throat, feeling tired or worn down. We would ask that you stay at home. We will work with you on rescheduling or canceling your trip(s).
We may encourage a walk-n-wade trip versus a float trip to limit the distance near each other.
Fishing Report
Fishing has been good and continues to be good in all our area waters. We are seeing a higher volume of local anglers out fishing for this time of year. This is due to the nicer weather we have been receiving, but also because of all the business closures throughout our state. Naturally, unemployed anglers are taken to the rivers to consume their downtime. Currently, we are seeing no guide trips out on the water since our industry is not considered essential. The trout are mostly hanging in the deeper, slower-moving water (walking speed). We have not had any reports of rainbows sitting in the shallow water on their spawning beds yet, but keep an eye out as these rainbows will soon start making their beds for the spring spawn. Please don't bother them if you do see them on their beds.
The Gallatin River near Bozeman, MT, is in good shape with good water clarity. Nymphing is the primary game on the Gallatin River using Palomino Midges, Baetis nymphs such as a Hogan's S&M size 16, stonefly nymphs like a Pats Stone in black with olive legs size 4-6, red San Juan Worms and egg patterns are also catching some fish. We are seeing some fish feeding on adult Midges on the warmer days during midday from 12 to 3, so keep an eye out for rising fish.
The Madison River is fishing very well from Earthquake Lake down towards Bozeman. Most of the boat ramps are accessible now, which allows us to access a majority of the River. Like the Gallatin River, the nymphing game on the Madison River is best with the same patterns as on the Gallatin River. Consider fishing a size 6-8 olive stonefly nymph. This will mimic the Skwalla Stones that we should start to see in the upcoming month of April.
This is a great time of year to be on the Ruby River. Because the flows are lower, it's easy to navigate without trespassing, which is always a big concern when fishing the Ruby River. There have been fewer anglers fishing the Ruby, and the fishing has been equally as good as the Gallatin and Madison Rivers. Keep your eye out for fish working the surface between one – three o'clock on midges.
The Missouri River in both the jet boat section and the drift boat section is fishing very well. Egg patterns, San Juan worms, Soft hackle Sowbugs, Pink lightning bugs, Disco midge, Hogan's S&M, Green Machine are all great nymphs to have in your box while on the Mighty Mo.
Travel Insurance
When booking a fishing trip with us, we have and continue to recommend purchasing trip insurance. Trip insurance can cover the cost of your guided fishing trip as well as flights, car rental, lodging and more. Having insurance is important now more than ever. As a partner with Global Rescue we highly recommend them for your travel insurance needs. We recommend looking into your trip insurance before you send us a deposit, or immediately after you have sent us a deposit.
Snowpack
We have solid numbers heading into our spring. It should be another season with plenty of water!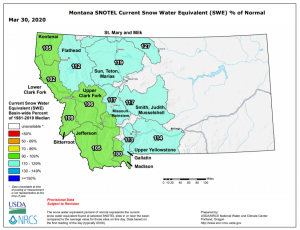 Getting out on the water is a great way to pass the time, all while social distancing yourself from other people. Montana is a large state, and we have plenty of water to fish, there is no reason you should be fishing within 100 yards of another angler. Get outside and enjoy the time you have off while you can. Give your loved ones a hug and stay safe out there.
Thank you for staying connected with us on current conditions, reports, and news!