In This Newsletter
Snowpack
Montana Fishing License Update
New SIMMS Apparel
Featured Vacation Rental
Snowpack
We finally received the much needed snow storms over the past couple of weeks! Bringing our current snowpack to favorable levels.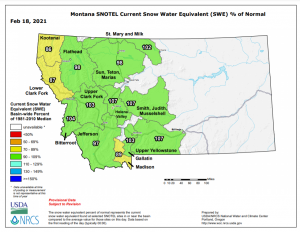 2021 Montana Fishing License
If you have a 2020 season Montana fishing license, it is about to expire after February 28th 2021. You can purchase your 2021 Montana fishing license online HERE starting at 5 am mountain time on March 1st.
New for 2021 fishing season from our friends at F.O.A.M.
"HB 260  Revise non-resident fishing license fees.  Representative Seth Berglee (R) HD 58, Joliet.

This bill removes the 2-day $25 fishing license and replaces it with a 1-day, $14 fishing license.  For multiple days, days can be non-consecutive.

This bill also removes the 10-day fishing license and replaces it with a 5-day $56 fishing license.  The 5 days need not be consecutive.

This bill passed the House Fish, Wildlife, and Parks Committee and recently passed a second reading on the House Floor.  The bill is now at the House Appropriations Committee.

SB 61  Allow Free Fishing on Mother's Day.

Senator Pat Flowers (D) SD 32, Bozeman.

This bill would allow free fishing on Father's Day and Mother's Day weekends without obtaining a fishing license.

This bill passed the Senate on 21 Jan 21.  This bill passed through the House Fish, Wildlife and Parks Committee and passed the second reading on the House Floor on February 10th, 2021."
We will keep you posted on these bills.
Trout On The Fly Apparel
We are starting to receive some much needed SIMMS apparel for the 2021 season! We put our order on hold last spring due to the COVID-19 shutdown and the uncertainty of tourist travel to our state.  We will keep adding inventory as it arrives, so check our online store often. We have a few sale items that are worth looking at for a bargain! FREE shipping on all sale items if you mention you read this newsletter!
Featured Vacation Rental
Unwind at The Noble Bison After a World-Class Trout Fishing Experience
At Trout On The Fly, we specialize in premier guided fly fishing adventures. However, we strive to provide our clients and guests with much more than the opportunity to catch fish. It is our goal to create the type of fishing vacation and experience you'll remember for a lifetime. That is why in addition to our guided tours, we offer rental properties that bring our guests as close to the action as possible.
Stay in a charming house that is minutes away from the waters you can fish. Like The Noble Bison, our three-bedroom, two-bathroom house in Ennis, MT, less than 5 minutes to the Madison River. It's everything you'd want from a vacation home and more.
Stay and Play — Explore the Waters of Montana
You head out to a spectacular sunrise with the alluring blue sky above. The vivid scene of contrasting bluish water and swaying golden brush takes you to a settled place. As you enjoy the scenery that surrounds you, we lead you to the finest trout location in your area. The crisp air fills your lungs and the anticipation of catching your first trout takes hold.
This only begins to describe an outing with one of our dedicated and experienced guides throughout Montana. Whether you're a veteran or a new angler, we tailor each trip to meet your specific needs. We want to ensure that you have the best possible experience, which is why we take the time to teach people the skills needed to make the most out of their fly fishing trip.
During my career, I, Nate Stevane, have had the opportunity to work alongside anglers age 8 to 90, beginners to experts. It has been such a rewarding journey and I see the impact that these trips have on individuals, couples, friends, and families. That is why the Trout On The Fly team has created an immersive experience, one that lasts long after we dock and hang up our waders.
We wanted to offer our guests an experience unlike any other, which is why we offer a number of lodging options. Each of our lodging options offer their own unique charm and are close to the water. During your stay with us, explore rivers, lakes, and creeks, all of which are perfect for both wade anglers and drift boat enthusiasts. These waters include:
Learn more about all our waters here. Each of our trips, which are full or half day, allows you to explore various bodies of water, including the enchanting Yellowstone National Park.
After an exciting day out on the water, you can then retreat to the warm and cozy Noble Bison, a modern and chic guest house with rustic accents. It is here where you'll reflect on the day and plan your next adventure. There is so much to see and do in the area, which is why we have made The Noble Bison such a relaxing place to unwind.
Rest Undisturbed at the Noble Bison Guest House
The Noble Bison will be your home away from home — a place where memories are made both on and off the water. A justification for getting off the "grid" to bond through horseback riding, hiking, hunting, fishing, and much more. Not skimping on modern-day amenities (forced air and heating, smart TVs, luxury vanities, etc.), all these "extras" make you feel comfortable and secure.
Newly constructed in October 2018, you and five others can sleep in a fully stocked home that is within minutes of the notorious Madison River — which is one of the most diverse year-round fisheries in Montana. It is the ideal spot for anglers of all skill levels, as well as those who like to fish dry flies, nymphs, or streamers.
Everything you need to know about the Noble Bison
Occupies six people (one king-size bed, one queen-size bed, and two twin beds)

Located in a quiet neighborhood, just three blocks from Main St. in Ennis, Montana, and only minutes away from the Madison River.

3 bedrooms, including a master suite + 2 bathrooms.

The 2021 nightly rate is $280.00 per night, with a two-night minimum.

The 2021 weekly rate is $1,750.00 (savings of $210).

Both the Bozeman airport (BZN) and the west entrance of Yellowstone National Park are an hour's drive away.

The kitchen is fully equipped with everything you need for cooking and baking (featuring stainless appliances, gas range, granite countertops, hardwood floors, etc.). There is also a separate dining room.

The living room is full of character, featuring rough-sawn fir hardwood floors, stone-accented gas fireplace, full-size leather couch, etc.

Two-car garage + a private patio, featuring a picnic table and a gas grill. Take in the Madison Mountain Range while preparing dinner for your family.
A Fly Fishing Vacation Rental You'll Never Forget
Establishing a welcoming base camp is so important — and we take that responsibility seriously. Just like our personalized guided fishing trips, no detail is too big or too small. A lot of time and care has gone into The Noble Bison to ensure that our guests feel at home. We have designed each room with our guests in mind.
We welcome you to check out The Noble Bison, as well as our inclusive packages — including our 3-7 night Madison River Lodge package.
To plan your next memorable trout fishing getaway, here is a list of all the available trip options. I, as well as my team of guides, know our waters as if they were our own backyard. You let us know what you want to do and we'll create the perfect trip. Each body of water offers its own unique treasures, both in terms of the fish and the surrounding scenery.
We cannot wait to share this beautiful place that we call home and provide you with your own home away from home during your visit.
Our goal is to deliver once-in-a-lifetime vacations. If you have any questions or would like to plan a personalized trip for you or a loved one, please contact us.
Also, be sure to check us out on Instagram, Facebook, and YouTube!
Thank you for staying connected with us on current conditions, reports, and news!