We want to thank everyone who stopped by our booth at The Fly Fishing Show in Marlborough, Massachusetts, and Edison, New Jersey, this past January. It was great to see a lot of our frequent guests and talk fishing with future guests. At the show in Marlborough, I had John and Paul Bunker helping out in the booth, thank you Bunker brothers for all your hospitality and help, I couldn't have done it without you! At the show in Edison, NJ, I had Chris Kirkwood in the booth helping me. Chris's knowledge of travel from the east coast to Montana is invaluable! Chris has put all three of his kids through college at Montana State University in Bozeman, with this came a lot of commuting from New Jersey to Bozeman and back. If you need any information about what east coast hub to fly out of, what airlines to use, and where to rent a car to avoid inflation during peak tourist season – Chirs is your guy. If you need any travel advice, let me know, and I will put you in contact with Chris Kirkwood or John Bunker.
In This Newsletter:
2020 Fishing License, Final Trade Show, Snowpack, and Fishing Report.
Time to Renew Your Annual Fishing License
Because it is a leap year, Montana anglers get one extra day on their 2019 season fishing license, February 29th. Starting on March 1st, 2020, you will need to renew your Montana fishing license. There is one new change that is beneficial to nonresident anglers beginning on Sunday, March 1st. The one-time annual cost of a nonresident Angler AIS (Aquatic Invasive Species) Prevention Pass (AISPP) has declined from $15.00 to $7.50! You can purchase your Montana fishing license online HERE.
Owners of motorboats, sailboats, or personal watercraft need to get new, free 2020-2023 validation decals for their watercraft. The current green decals will expire on February 29. You can order these online HERE.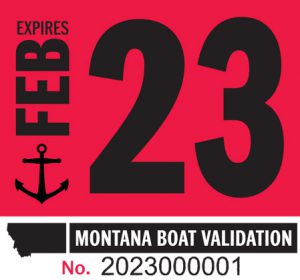 Our Final Trade Show of 2020
The 45th Annual Houston Fishing Show in Houston, Texas March 4-8 at the George R. Brown Convention Center
1001 Avenida De Las Americas (Located in downtown Houston) Exhibit Hall A,
Houston Texas, 77010
Show Times

Wednesday March 4th: 12 noon to 9pm
Thursday March 5th: 12 noon to 9pm
Friday March 6th: 12 noon to 9pm
Saturday March 7th: 10am to 7pm
Sunday March 8th: 10am to 6pm

Our booth number is 544.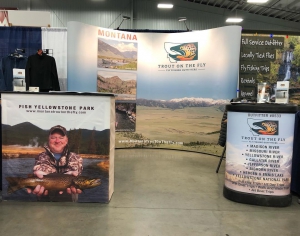 Current Snowpack
Snowpack is looking great for all of our rivers!
When booking a trip with us, keep in mind our runoff in southwest Montana is historically mid-May through the first week in June on a ten-year average. However, rivers can get high and off-color earlier or last longer. During runoff, we have plenty of fishable water; sections of the Madison River will fish well, and a majority of the Missouri River will be in good shape. Of these two rivers, the Missouri River will see more angler pressure than the Madison River.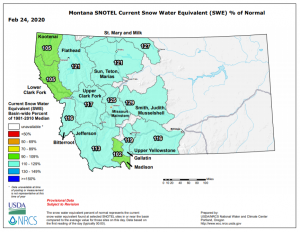 Fishing Report
February started as it should with snow and cold temperatures. However, this final week of this leap year month has daytime temperatures hitting the high 30's to low 40's in the Gallatin Valley. These temperatures have anglers trading in their skies for their fly rods, and I can't seem to blame them! Currently, we have plenty of accessible fishing access sites on our waters that are free of snow. Several boat ramps on the Madison and Missouri Rivers are accessible, which is early for some of the sites. If you plan to float, make sure you can launch your boat at both your access points. Just because you can get your boat in at point "A" doesn't mean you can get your boat out at point "B." Wade fishing on both the Gallatin River and Ruby River are in prime shape with easy access, and I highly recommend spending a half-day on either when the daytime temperatures are at their peak, from 11-2.
I was at the Gates of the Mountain Marina last week, where we launch our jet boats for the Land of Giants trip on the Missouri River. They had open water at the boat ramp two weeks ago; however, a cold snap that followed locked it back in with ice. The warm weather forecasted for this week should melt that ice at the boat ramp again and allow us to launch our jet boats on the Missouri River hopefully by the first week of March. The water temperatures are still bitter cold – while out fishing, target the slower deeper moving water. With this week's favorable temperatures, we will see fish feeding on midges, both the emerger stage and adult. Take caution when approaching the water not to spook any rising fish near the banks. Be careful when wade fishing, there are still ice shelves present (see photo below), and they are slippery. Also, watch for these ice shelves breaking free and washing down the river; they are large enough to take out an angler in the water.
Thank you for staying connected with us on current conditions, reports, and news!