In This Newsletter
End of year review.
Madison River Recreation Plan update.
Fishing report.
Trade show season.
Holiday gift ideas.
Fishing with us in 2021.
Snowpack to date.
2020 Fishing: End of Year Review 
As 2020 comes to a close, there is no denying that it has been a challenging year — especially for businesses. All of our April and May trips were canceled due to travel restrictions to Montana in response to the COVID-19 outbreak. However, once our governor, Steve Bollock, lifted travel restrictions to out-of-state tourists, we were up and running once again, eager to fish!
Luckily, we managed to salvage our 2020 season with last-minute bookings. If you were someone who came out and fished with us during this 2020 season, we would like to thank you!
The Salmonfly season started as it should in mid-late June, but an unexpected week-long cold front put the hatch down, which never fully recovered in comparison to what we should have experienced. Since there was a lockdown in April and May, there were heavier crowds than what there typically is during our peak tourist season of June, July, and August. This was because local anglers were unable to work, spending their time on the water. 
As June came to an end, July PMD (Pale Morning Dune) fishing on the Missouri River was great, particularly in the jet boat section known as "Land of Giants." The rainbows were feisty and fought like a small steelhead making this month both exciting and rewarding for both locals and tourists. 
In late July, August, and into September, hoppers were the primary bug of choice — but compared to hopper fishing in 2018 and 2019, 2020 would be given a B rating. 
For those who love to fish brown trout, we enjoyed an early push of browns in mid-late September out of both Ennis and Hebgen Lakes. The high numbers of fish in Yellowstone National Park on the Madison this early was a pleasant surprise; and with not many anglers out, this yielded an excellent experience for those who visited us during this time. 
Early October was warm and sunny, but fishing for runup rainbows and browns was more challenging than earlier in the season. However, we are always pleased when someone surprises us with a larger than average fish, such as the 28" female brown that returning guest, Ron H., caught on October 4th. His large catch was landed during a half-day float trip from Varney Bridge to Eight Mile Ford on the Madison River. That day, the weather was wonderful — another warm and sunny October morning. Ron hooked her around lunchtime, kickstarting an exciting battle to the net. Ron managed to bring her in using a 4x fluorocarbon on a size-14 silver Lightning Bug. 
Over my 20 years guiding anglers on the Madison River, this is the biggest I have had come to the net. Based on my experience and knowledge, I would confidently bet that this fish came up out of Ennis Lake. Her colors did not indicate full spawning colors, like most of the browns we caught that day. 
Once October 22 rolled around, Mother Nature slammed us with an early cold blast that lasted until October 26th. Temps dropped to the single digits with wind chills well below zero. When temperatures drop this low, the very best tactic is to "truck fish" — jumping from one fishing spot to the next, warming up in the truck between spots. This ensures a more lengthy, productive day. If we committed to launching and fishing from the drift boats with no means of warming up, our day would have likely been cut short. 
Booking for 2021 and Beyond
As we approach 2021, we're eager to get back out on the water! As always, we recommend booking as early as possible. Booking your trip a year or two in advance is not uncommon. Doing so will ensure you receive the dates you want, the lodging you want, and the guide you want! For your convenience, you can book directly through our website. 
Deposit & Cancellation Policy on Fishing Trips
A 50% deposit is required at the time of reserving your fishing guide. The remaining balance will be due 60 days before your scheduled trip(s)

Cancellations made 61 days or more from your scheduled trip will be refunded the full amount.

Cancellations made between 60 and 31 days before your scheduled trip will forfeit $100 of the trip amount.'

Cancellations made 30 or fewer days before your scheduled trip will forfeit 100% of the trip amount.
Trade Show Season
We were scheduled to attend three trade shows in January, February, and March 2021. Due to COVID, the shows were canceled or we are not optimistic at this time that if the shows were to go that the attendance would be any good. We always enjoy coming to your area and seeing all the great customers we have and meeting new ones. We will all have to catch up on the river here in Montana for 2021!
Madison River Recreation Plan Update
As a member of FOAM (Fishing Outfitters Association of Montana), we wanted to share this important information from their website. This plan will go into effect on Christmas day, 2020.
On November 18th, 2020, the Fish & Wildlife Commission voted to approve a recreation management plan for the Madison River. After FOAM viewed the recommendations from the Montana Department of Fish, Wildlife and Parks, they rejected their proposal. Surprisingly, their management recommendations did not highlight many of the areas found in the proposed FOAM plan, nor did they address public comments. FOAM offered alternative options that would help craft a plan that would be suitable to all river users, without having a devastating impact on our industry. 

The Commission was recognized based on their positive involvement, as they took part in one of the most constructive working group meetings seen in respect to the Madison. 

Following this meeting, the Commission adopted the following rules:

New Rule I:

Madison River Special Recreational Use Permit (SRP) holders will be assigned a number of trips that they may operate in a season equal to their highest number of historic use of trips in the 2019 or 2020 season (FOAM's proposed new rule VI in petition).

New Rule I will be implemented, January 1, 2022.

New Rule II: 

Rest and Rotation will be implemented from June 15 – September 30.

On Saturdays, June 15 – September 30, from Raynolds Bridge to Lyons Bridge will be open to noncommercial float fishing and closed to commercial float fishing.

On Sundays, June 15 – September 30, Lyons Bridge to Palisades Fishing Access Site will be closed to commercial float fishing.

On Sundays, June 15 – September 30, Raynolds Bridge to Lyons Bridge will be open to all float fishing.

New Rule II will be implemented June 15, 2023.

New Rule III:
Ennis to Ennis Lake, will remain as status quo, allowing boats to be used for access for fishing, but not allowing fishing from a boat.
Quake Lake to Lyons Bridge will remain as status quo, allowing boats to be used for access for fishing, but not allowing fishing from a boat from October 1 – June 14.
Quake Lake to Lyons Bridge will remain status quo, allowing boats to be used for access for fishing, but not allowing fishing from a boat, Monday – Friday, June 15 to September 30.
Quake Lake to Lyons Bridge will be open to fishing from a boat on Saturdays and Sundays, June 15 – September 30.
New Rule III will be implemented, June 15, 2023.
Last-minute Gift Ideas
Christmas is nearly here and after a tough year, you're likely looking to give those extra special people in your life something memorable. If you're struggling to find the perfect gift, look no further. If you're looking to buy for an angler, a guided fly fishing trip in Montana with one of our legendary guides would certainly be a gift they'll never forget. 
You can learn more about me and our amazing guides here. 
This is the type of gift that won't end up in a closet or garage, collecting dust for years to come. A guided fishing trip will bring incredible, joyous memories for the rest of the angler's life! As an angler myself, I can't think of anything better. 
We offer a range of all-inclusive packages, providing our guests with experiences in a location that can't be beat. Stay in the Madison River Lodge, situated at the center of the famous Upper Madison 50-mile riffle. What's even more exciting is that the river bends around the property, allowing anglers to cast a line at their convenience. When anglers aren't fishing, they can enjoy the views from their walkout patio, which overlooks the river. 
There are options to book for 3 nights, 4 nights, 5 nights, 6 nights, and 7 nights. 
These packages include:
Lodging

All meals including beer, wine and nonalcoholic beverages

Guided fishing

Equipment use – rod & wader rental

All your tackle on guide trips including flies & leaders

Private access to the

Madison River
Learn more about our packages here. There are also a wide range trip options available, including a half-day float or walk-n-wade, Yellowstone National Park walk-n-wade, and more. 
To make things simple, we offer gift cards. Please contact us for details. 
We also have an online store with Trout On the Fly apparel. Items such as hoodies, SPF shirts, Simms hats, and cotton shirts all make great gifts. Click HERE to start shopping. 
Snowpack to date
When the cold front nailed us in late October, I was sure we were in for a great winter, just like 2019. Following that cold front, it was unseasonably warm here in Bozeman, MT. Now, we're in the third week of December, and temperatures are leveling out to normal temps. 
Daytime highs in early December were in the '40s. I had a good friend in Florida text me on December 1st saying it was 32 degrees at his place in Destin, FL. At the same time, here in Bozeman, the outside temperature was the same, and 37 degrees in Billings, Montana. 
Wow! How can this be?
Madison drainage is 69% of normal, Gallatin drainage is 72% of normal, Yellowstone drainage to Billings, MT is 100% of normal.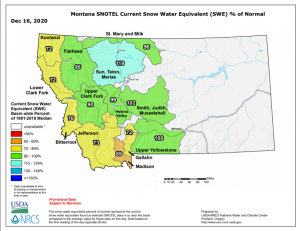 As of December 15th, the daily highs for the 7-day forecast for Bozeman are 32 -39 degrees F.
Fishing Report
We received some much-needed snow the second weekend in December, as temperatures were fairly warm the first nine days of the month. It wasn't until the 10th that temperatures began to fall to more normal temperatures for December. No need to rush out the door to be the first angler on the river — the waters are quiet. Instead of being an early bird, let the air temperature warm-up. We recommend fishing from 10 am to 3 pm when the day is at its warmest. 
And always, location is everything. 
We recommend fishing on the Madison River from Hebgen Dam to Earthquake Lake, below Quake Lake at Raynolds Bridge, Three Dollar Bridge, the West Fork area, and below Ennis Lake. 
When fishing the Gallatin River, stay below Big Sky, MT, down the river around Gallatin Gateway, MT. The Ruby River below Ruby Reservoir. The Missouri River from Holter Dam to Craig, MT, will be best. 
If fishing the Bighorn River, we recommend staying in the first 13 miles below the Afterbay to Bighorn FAS (fishing access site). Area spring creeks are also a good option this time of year.
Recommended Patterns
Nymphs/Emergers

Zebra midge, black and red – size 16-20

Rainbow Warrior – size 16-20

Tailwater Tiny, olive – size 18-20

San Juan Worm, red and orange – size 2-6

Egg Patterns, orange– size 20-18
Dries 

Griffith Gnat – size 18-22

Klinkhammer – size 18-22

Twisted Midge– size 18-22
Streamers

Kreelex, gold/silver – size 4

BH (bead head) Wooly Bugger, black – size 8-4

Sparkle Minnow, olive – size 4

Peanut Envy, Olive – size 2

Barely Legal, olive/white – size 4
In Closing
2020 has been a tough year for most, but 2021 will be full of new opportunities. Us guides are excited to get out and share these waters with you! There are plenty of fish to catch and memories to make. 
We are optimistic that 2020 is in our rearview mirror, and we are looking forward to 2021. Enjoy your family, friends more now than ever, get outside, enjoy the fresh air, and most importantly, make sure you get out and fish! Merry Christmas and Happy New Year from all of us. We hope to see you in 2021!
Thank you for staying connected with us on current conditions, reports, and news!